Best Creative Branding
Design Agency in India
Cross Graphic Ideas is creative branding agency based in Jaipur, India. We are passionate about creating the best brand identities for our clients. Our branding design services are innovative and are created to give your business a competitive edge.
Branding Solutions To
Push Your Business
When it comes to branding, it has to be in the hands of professionals. Branding makes an impact more than anything else and hits the profit button big time. So, you must have a branding design agency to help you with the best strategy which can certainly make a big difference. We are one of the best branding design agencies, and our professionals will help you with effective solutions which can enhance growth at a quick pace.
You might have a lot of competitors, and this is why you want the customers to have a reason to purchase from you. Our event branding management services will help engage with your audience and they will always be stuck to your services.
Business growth and development is nothing without branding. It plays a very important role in growth as it enhances awareness and also gives it a unique identity among the audience. Our branding agency experts will help you with a customized strategy to promote brand awareness and keep adding the number of loyal customers all the time.
Your business might be new and is competing against all odds but you can still make a difference if you follow the right steps of branding. Our solid branding process is just the right option for you to help you give the face of your brand the biggest exposure. We are not only the best branding agency in India but are also providing services in the USA, the UK, France, and Canada. We have our gates always open to help you grow and dominate in your field of service.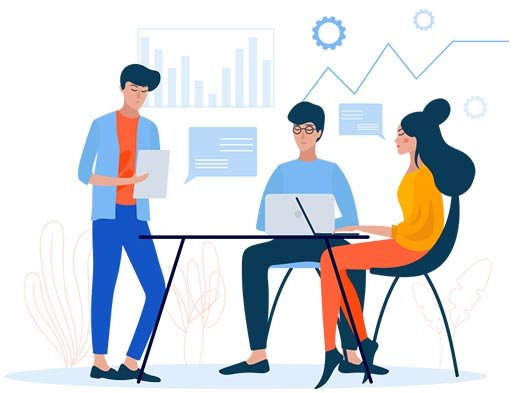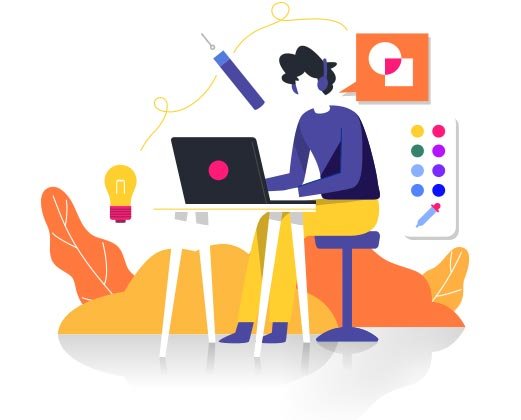 Refreshing Branding
Approach
If the results are not going in your favor after a lot of hard work offline and online then, we are here to help you with the best branding solutions. Take a look at the reasons for it: 
You might have an outdated logo which is not at all pleasing to the eye!

You are following a marketing approach which is not so competitive and latest!

You do not have the assistance of online experts which can give your brand a completemakeover.
So, to stop your sales from slumping all you need to do is to get yourself connected to our creative design agency experts and they will help with rebranding needs. With our best brand consultants in India, you can be assured of positive results and that too at nominal rates. We will get your business
the right platform through different channels and help you connect with your audience. You will
certainly experience the rise in sales in no time at all.
Get Complete Custom
Branding Design Services
What is a Branding Agency and what does the Agency do?
Branding is the process by which a company creates and promotes an emotional connection with its customers. It begins with the name and logo of the company, and it extends to advertising, packaging, and all other customer experiences. The goal of branding is to make your company's products immediately recognizable.
FAQs About
Branding Design
Branding is all about creating a mark in the minds of your customers. It is about making an impression on their hearts and minds.
Your business needs a face, an identity. Branding is the process of creating that image. It's what gives your customers a reason to remember you, and it's what makes them want to come back.
In e-commerce, a lot of effort is spent on building a brand. Branding helps companies to set themselves apart from the competition. It gives your business a distinct identity and helps in winning more customers by providing value to them. A strong brand image can help you survive in the competitive world of e-commerce.
"Branding" is a very important word in business. In fact, it is the most important word in business. Owning a brand means you own your customer's mind. If you have a strong brand for your online shop, people will be able to identify it from a mile away and associate it with quality products. They will come to you because they trust your brand and they know what to expect from it.
Client Say
What People Say About Us
We have found Prakash at Cross Graphic Ideas to be extremely efficient offering a great value for money service. He responds immediately to all requests and is very helpful and professional.
Awesome services, I am very happy to take Cross graphic ideas for Website Design and Development Services. Affordable Price. Thank you so much
Cross Graphic Ideas do their best to provide creative designs for your website. The staff is very helpful and supportive. I am very much satisfied with their services.
Cross Graphic Ideas completed my website design and logo for my company. I love how professional and clean it looks. It was fun working with them.
I chose Prakash to re-design my website due to him being recommended by friends who he has been working with for a while, and I´m very glad I did so. He was very easy to work with, and came up with a great fresh design. I´d highly recommend him as a web designer.
I got to know about Crossgraphicideas from my school friend. It happened to be one of the best collaborations on website design. The team is very professional in understanding the requirement and providing top notch quality. I highly recommend Crossgraphicideas for global and professional websites. Look forward to collaborating with them further.
Smriti Chandra
Executive & Career Coach, UK
Discuss Your Project With Our Team :- Want to grow your business online, contact us for a Branding !! Email Address :- sales@crossgraphicideas.com
Quick Enquiry
[contact-form-7 404 "Not Found"]