Technical SEO is fundamental to being successful in the field of SEO. You may have written a great blog post, but you won't get good ranking if your site has unresolved technical SEO issues.
It's really important that you spend some time optimizing your website with technical SEO.
In this article, I will explain what Technical SEO consists of and share 10 actionable tips that can immediately improve how your website ranks on search engines. 
What is Technical SEO?
Technical SEO is the process of optimizing your website in a way that allows search engines to easily crawl, index, and display your website on the first page when relevant search queries are entered.
Why do website audits with the Technical SEO Checklist
Technical SEO is anything that is done in addition to content creation. It is laying a strong foundation to give content the best chance of ranking for relevant keywords and phrases.
Technical SEO helps websites rank higher in search results by optimizing them. in a number of aspects that affect the website. It ranges from site structure to content.
Basic SEO Audit Checklist
You should consider hiring an
SEO company
because they'll be able to exploit the best tools, resources, and strategies to keep up with the changing landscape of SEO.
10 Actionable Technical SEO Checklist 
Here are simple and effective 10 technical SEO checklists to help boost your SEO rankings.
1. Make Sure Your Website is Mobile-Friendly
Let's start with the most basic SEO tip.
In 2015, Google experienced a major update to give increased preference to mobile-friendly web pages. Many websites were penalized for not adopting a more mobile-friendly template.
Today, it is more important than ever to have a mobile-friendly website.
How do you check if your website is mobile friendly? Use any of the free tools below.
2. Create and Optimize Your XML Sitemap
Sitemaps can help Google find and understand video and image files and also index your web pages. In order to take advantage of search engine optimization, you should create an XML sitemap. This can be done through plugins for WordPress or through Google's free XML Sitemaps. Once you've created the sitemap, submit it to Google Search Console.
3. Speed Up Your Website
Site speed matters, so make sure your site has a quick loading time. Google will place small penalties on websites that load slowly.
Unfortunately, ranking high doesn't mean you'll get more readers on your site. Your website will rank lower in SERPs if the load times are slow, even if your content might be the gold standard for that topic.
This is a critical aspect of technical SEO that can't be ignored.
Use any of the following free tools to test your site speed:
Sometimes your site can take a while to load which affects user experience. Follow these steps to speed up your website:
Optimize your site's image – Use JGP, JPG is a popular compressed image format.
Enable browser caching – This feature lets you store data on a visitor's computer so that it doesn't have to be loaded all of the time.
Enable compression – Website compression will significantly increase site rank and reduce the size of HTML and CSS files.
Reduce server response time – Google advises on keeping response time under 200ms
Use a Content Delivery System (CDN) – Use a CDN like BunnyCDN or Cloudflare to increase your site speed.
4. Fix Your Site Errors by Performing Weekly Technical SEO Site Audits
You should run a weekly technical SEO audit in order to rank higher on SERP lists.
So how to perform a technical SEO audit?
There are several tools on the market that can help you do this.
Semrush, Moz and Ahrefs are all great tools for this task. But I would highly recommend Semrush for this article as it is considered the industry standard and offers the most comprehensive glimpse of your business' website.
If you don't have access to the tool, sign up for a 30-day free trial of Semrush.
Select the number of pages you want SEMrushBot to scout and click "Start Site Audit."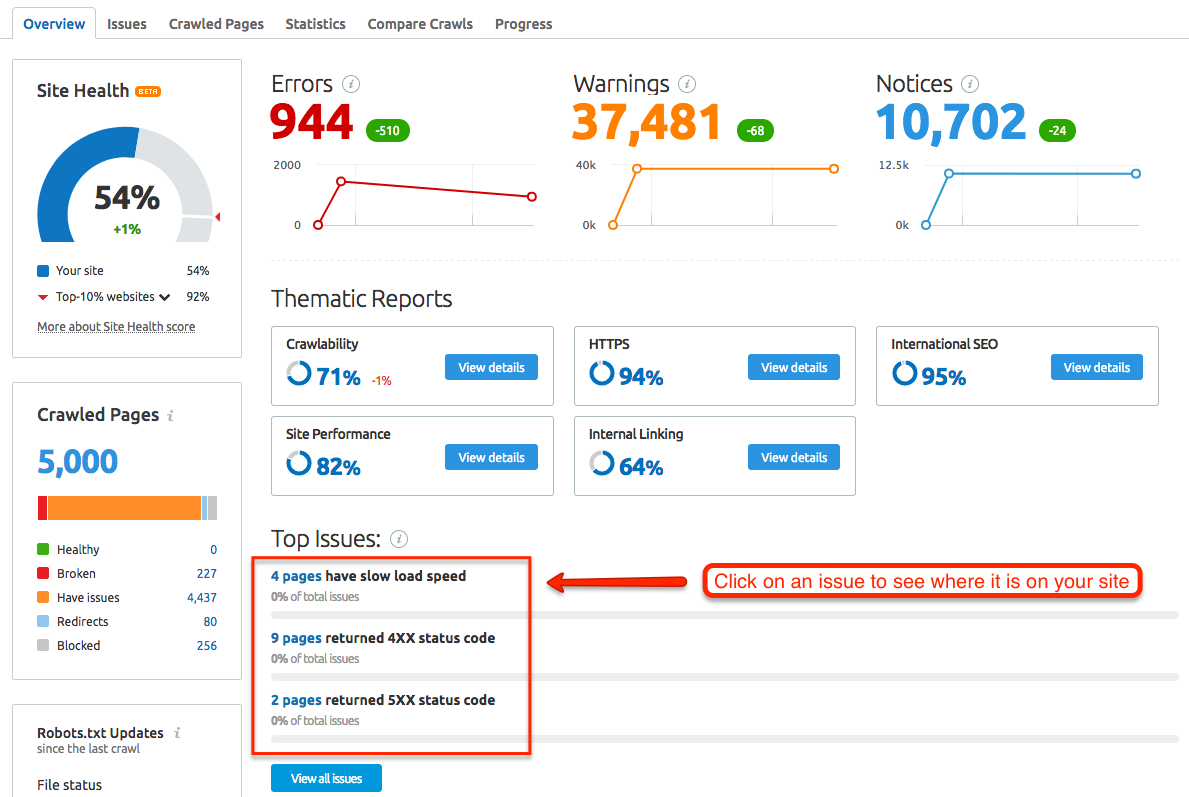 Semrush scans your website and locates errors, warnings, and performance issues to provide recommendations that would improve site functionality.
Note: Semrush is a powerful digital marketing suite that can help you with more than just technical SEO site audits.
5. Optimize Internal Links Internal links are hyperlinks that point to one another within the same website. While internal links may not have the same influence on search rankings as external links, they are still an important metric and help establish an SEO-friendly site architecture. A simple step to improve the links between your website is including multiple keywords when linking pages that are related to one another.
6. Include Your Main Keywords in Image Alt Text
Google doesn't look at the content in an image, instead using the metadata, such as the file name and alt text (alternative text) to determine what's in the image.
Alt text is used within an HTML code to describe the appearance of an image on a webpage.
The best practice for alt text is to use descriptive keywords in a practical amount. Keep your content short and concise, but still include important keywords.
Image optimization can improve how your site appears in search engines, so pay attention to how it can improve your site and visibility. Here are some helpful picture-centric SEO tips that you can implement right away.
7. Use Canonical URLs to Avoid Duplicate Content Issues
The first step in cleaning up your duplicate content.
There are cases when you need to have duplicate content on your website. In such a case, use the canonical URL method.
Canonical URLs are useful when you have multiple synonymous pages on your website. They're especially handy if you're running an eCommerce site with hundreds of identical pages.
In order to avoid content duplication and a Google penalty, add a canonical URL to the page using the Yoast SEO WordPress plugin. The plugin creates the rel-canonical tag included in the header.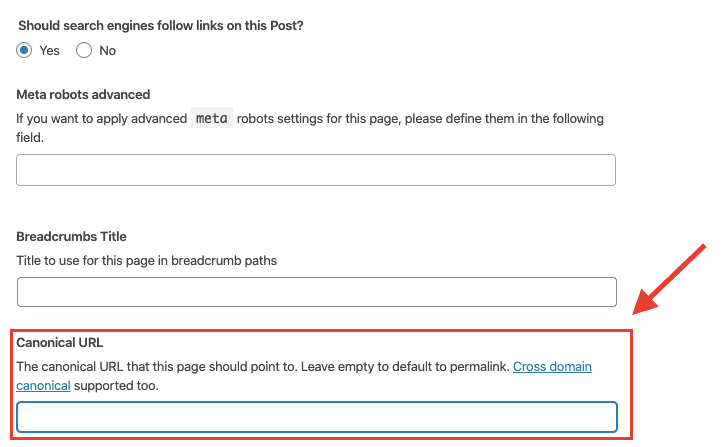 8. Install an SSL Certificate for Your Website
In 2014, Google confirmed that SSL certificates, also known as HTTPS encryption, were now a ranking signal.
If you are considering purchasing an SSL certificate for your website, now is the best moment to do it. There are multiple benefits from getting an SSL certificate including enhanced security and increased search rankings.
I recommend the use of Namecheap SSL certificates for low cost and high security.
Pro Tip: Though there are multiple web hosting providers, I recommend trying Namecheap. They are reliable and efficient when compared to other SSL services.
9. Check and Fix Crawl Errors in Google Search Console
Check Google Search Console for crawl errors once a week to deal with technical 3rd party issues. If a site has too many crawl issues, it will affect its performance and hurt the website's rankings.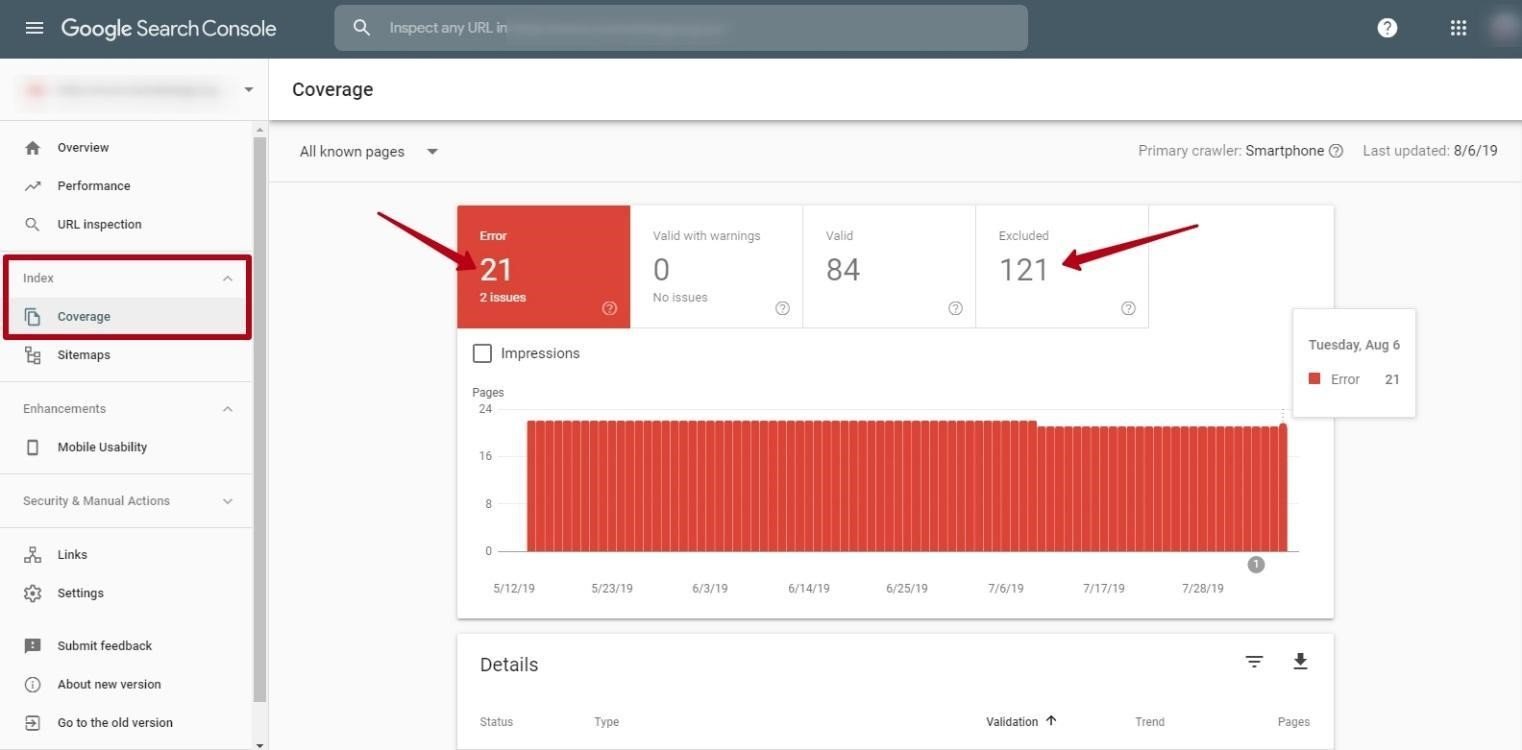 While you're checking your robots.txt file, make sure you're not blocking pages that should not be blocked by manually blacking them out in the code.
10. Find and Fix Broken Links on Your Site
Broken links can harm the user experience of your site and make it more difficult to rank.
If a potential reader lands on a "404 Not Found" page, that can create bad first impressions and the visitor may never return to your site again.
Broken links can quickly make your site fold, so it is best to be aware of them as they appear on your site.
Bonus Tips & Resources
Technical SEO is a complex topic that continuously changes, but with good planning and smart moves you can constantly improve technical SEO. Here are some ways to do just that:
Use Google AMP. Accelerated Mobile Pages are designed to load super fast on mobile devices, making them ideal for consumers. Though initially created just for Google, it's become very popular among publishers as well. WordPress users can easily implement AMP with the Google AMP plugin.
Use Schema.org structured data Check and minimize the number of 301 redirects for your site :
Avoiding 301 redirects on your site saves load time and unnecessary load data. You can use tools like Semrush or Broken Link Checker to analyze and remove SEO-based redirects.
This is a long-running debate, but most SEO experts agree that subfolders rank better in SERPs than subdomains.
Technical SEO Checklist & Summary
Technical SEO is often overlooked on-page SEO. It is just as important to fix technical issues like "bad redirects" and spelling errors in your website to produce better links in search engine results pages.
Here's the 10-point technical SEO checklist you should be following
Short bio:
Sambhav Shah is a founder of
Digital Aura
and takes great pride in creating digital marketing strategies from mid market business size to enterprise. Digital Marketing and SEO is his passion. While not at work he loves to play cricket and spend his time on research and reading digital marketing content.