Business Stationery Design Services Company in (Jaipur) India
We are a full-service business stationery design company in (Jaipur) India. We design, print and deliver all types of professional business stationery including business cards, letterheads, envelopes, brochure and many more.
Impact of stationery design is huge and with competition getting so fierce, it is important that you have all your bases covered with exceptional stationery designs which can get the results in your favor. But, it is not so easy and you need expert assistance for it!
Experienced Stationery Designers from Jaipur at your service for Business, Corporate and Office
Designing requires expertise and it needs to connect so that you can have your audience hooked to it all the time. You can only achieve this by having a professional stationery designing expert to help you. CGI is one of the best in the business known for providing letterhead and stationery designing services in the USA, the UK, France, India, and Canada.
So, all you need to do is to connect with our experts and let them know about your specific needs. We will understand your business service process and help you with the best of business stationery design services & packages which can get your needs covered in the best possible way. Being one of the top printing and stationery design companies, we always strive hard to deliver the goods which can help you with better results.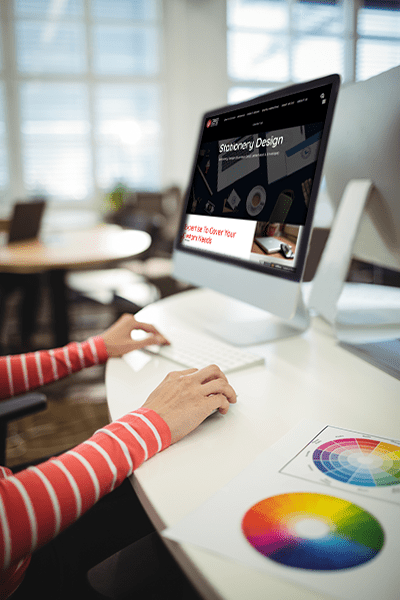 Stationery Designing Process
You can always trust our creative stationery design agency and get your needs covered as per your specification. From business cards to envelopes and letterheads, we will get each and everything designed as per your business services and values. We will make sure that you avail complete value for money service and give your business an edge over the others.
As stated above the importance of stationery designs, you must be thinking of how experts are going to take care of your needs. Being the best stationery designing service providers, we always follow a simple approach which can certainly help you get your needs covered not only on time but also the way you wanted too. So, this makes us one of the go-to companies when it comes to hiring letterhead and stationery designers.
Our Unique And Simple Approach
At first, you need to let our designing experts know about the kind of service you need.
We will kick start with the best of strategy which can be perfect to help you have needs designed.
After understanding your ideas, our team of experts will get the work started right away and make sure that the deliverables are ready within a span of a few days.
You can go through the options provided by our experts in-house and check if they are good enough to be approved or not.
After the design is approved, we will share the final files with you as per your specific needs and requirements.
You can check it and help us with feedback.
So, what is making you think so long, get yourself connected to our experts and we will help you with the best of stationery design services! Consult now!
Client Say
What People Say About Us
Our firm was extremely happy with the design for our logo. CrossGraphicIdeas was efficient and very reasonable priced.

Highly recommended. CrossGraphics worked with me and came up ideas beyond what we imagined. They gave us many options and ideas and made as many edits as necessary until we got our logo just how we wanted it. Thanks, Prakash

This was the third time I call Prakash for logo design and each experience was outstanding. I've even recommended the logo design services to a couple of clients.

Crossgraphicideas, and our stationery will create something design you'll love.
Quick Enquiry
[contact-form-7 404 "Not Found"]