Creative Logo Design
Company in USA
with 17+ years of Experience, Excellence and Expertise
If you are sick and tired of searching for the top logo design companies in the USA, then you are not alone. So many people are in the same situation as you are, but luckily, your search is now over. We are proud to say that we are one of the best logo design companies in the USA, as we have years of experience.
We also work with some of the finest designers around too, so you can feel completely confident knowing that when you come to us, you are going to get someone who you can count on to not only meet your expectations, but also exceed them. Want to find out more about our logo company and how we can help you? Take a look below. We have outlined some of the steps we'll take when designing your logo, while also detailing why we're the best choice for just about anything you need.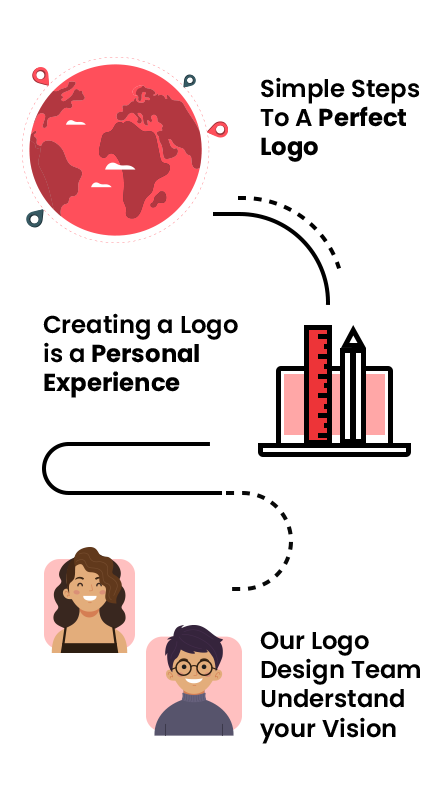 Simple Steps To A
Perfect Logo
We are one of the most reputable companies when it comes to logo design, not to mention that we offer our services to a worldwide client base. Some of the countries that we serve include the US, UK, Canada, France, and even India. We have a great understanding of the many concepts that are involved with logo design, not to mention that we will always welcome your creative input when it comes to the finished product.
Creating a Logo is a Personal Experience
We know that creating a logo is a very personal experience, and that it often involves you trying to put the heart and soul of your brand into a very small image. That's why every decision carries weight, and even the smallest choices can have a monumental impact.
Our Logo Design Team Understand your Vision
Our team understand this more than anyone, and that is why we won't stop until we have achieved the creative vision that you have for your brand. When we create a logo, we don't just think about the digital world. We think about the offline world too, ensuring that your logo is going to stand out when used on your stationery, letterheads, business sign, and more.