Welcome to Cross Graphic Ideas a Logo Design company in India with a sales office in USA, USA, UK, UAE and Singapore. Our Logo designers in India have expertise in designing logos for Enterprise, eCommerce, Educational, Property and Fashion. We are dedicated to provide design services at its best and proud to have a huge base of offshore client along with some of the top domestic brands.
Hire our team of most cost effective designers that has been designed top class Logos. You can hire our designers as full time, part time and at fixed cost to achieve sustainable growth for your organization.
Logo Designers in India
Checkout what our designers have been designing logos for business
Trusted by over 2000 businesses since 2002, we are one of India's leading logo design companies. Our reputation has been built on delivering quality logo designs at affordable prices with exceptional service. We have clients India wide and a talented, experienced team of in-house logo designers who will work with you to create a great logo that works for your business.
With unlimited design revisions, where we design until you are 100% happy, exceptional customer service and all our designers being in house, it means you can know your logo will be in safe hands.
We create Logo & Brand designs for every type of company. From branding and packaging artisan food products, through to logo design.
6 reasons to choose Cross Graphic Ideas logo design
1. Unlimited Design Revisions:- We work with you and design until you love your logo design. We want you to be 100% happy with the result.
2. Professional Approach:- Our logo designers are supervised by a Senior Art Director and our Creative Director to ensure quality control and that the logo design standard is of the highest quality!
3. Affordable:- Our professional approach is not going to cost the earth, our designs are very affordable. Unlike cheap logo design templates or logo maker software, your company's logo will be 100% custom designed.
4. Depth of Experience:- Since 2002 we have designed over 2000 logos. Our designers are all specialised logo designers and have all worked with a huge number and variety of clients giving them a great depth of experience.
5. Creativity:- We're routinely described as clever, cool, original, gifted and understanding. We have great designers who live for art and design.
6. Reputation:- We are proud of the praise we receive from clients all over India and also at being recommended by them to others.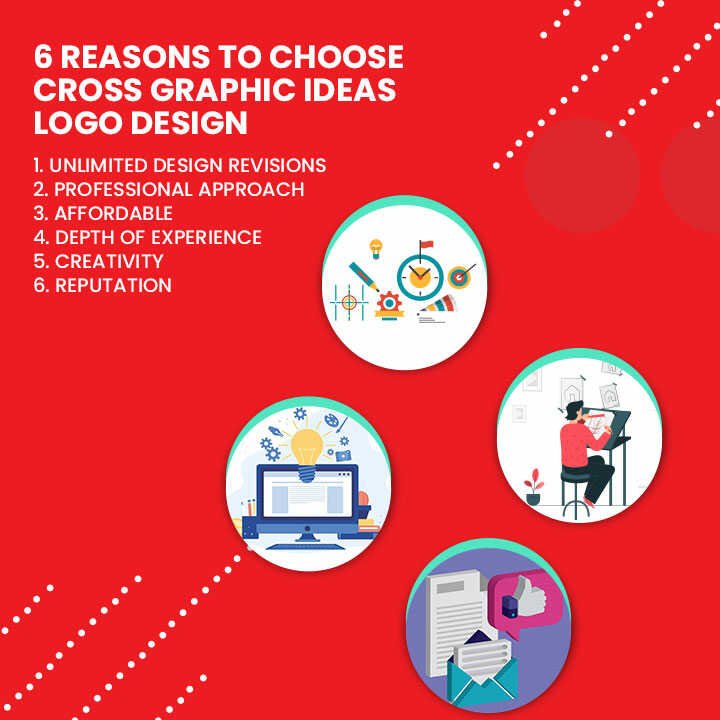 logo design next steps
Call or email us to discuss your logo or branding requirements. Our friendly and experienced consultants can answer any questions you may have. To proceed we require a 60% deposit after which we will send out the logo design brief. You can pay this deposit with a credit card or with a bank transfer. We can provide you with the bank account details or give you a call for your credit card details.
The Cross Graphic Ideas logo design process is very simple
1.First we send you a logo design brief. This is a questionnaire that you fill out, answering questions relating to your business and ideas regarding your logo design.
2.3-7 days after we have received your design brief you will be given initial logo concepts from our design team
3.From this point you will go back and forth with the designer until you are 100% happy with the logo design and sign off on the artwork.
4.Upon completion you will receive your logo in the form of a professional "logo style guide" which has the logo, colours and fonts in all the formats required for your use. More more information on our design philosophy and what makes a successful logo read the following article on the fundamentals of a great logo.
4 Fundamentals of great logos
1. Simplicity
The best company logo design simply and effectively conveys an emotion or idea without trying to say too much at once. Flat shapes, bold lines and clear type are hallmarks of simple logos that never run the risk of appearing busy or worse, confusing.
Occasionally, innocent enthusiasm leads business owners to want an elaborate logo design in an attempt to convey as much meaning as possible. Not only is this unnecessary, in many cases it's a distraction. Your logo shouldn't be a puzzle or poem, it should be an elegant icon to symbolise your organisation's personality and values.
2. Versatility
Whatever size your logo is now, it might one day be as big as a billboard or as small as a postage stamp. Icons and fonts should be balanced and readable at any size and in a variety of contexts. Will your logo still be clear and effective if it appears in a single colour or on a black background instead of a white? The best logo designers consider these factors and plan ahead. A business logo designer will also supply you with a style guide which provides best way for using your logo on different pieces of content across various channels
3.Relevance
The best logo design centers around a single attribute that is relevant to your prospects and your industry. Does it emphasise power, agility, connectivity or innovation? The message should be relevant and resonant to your audience. A childcare center would likely choose a logo that is colourful and fun, while a law firm should consider a traditional logo with a confident colour scheme. This may seem obvious, but it's worth emphasising because it is critical to your brand image. Relevant also means your logo should be aligned to your business objectives, rather than your personal taste. Avoid unnecessary elements that may be visually pleasing but don't support your message.
4. Artistry
Ultimately a great logo is like a piece of art. Like all great art, it can instantly evoke feelings of joy, gratitude, anticipation or calm. It combines colour, font, layout, and graphic elements into a visual that can communicate in a single glance the passion and integrity behind your business. It takes real artistic talent to arrange these elements for maximum impact and influence. In our experience this is where logo design most often fails.
Font :- Some of the best logo designs are little more than a business name written in the perfect font. The right font for your logo will clearly articulate your brand identity, with or without additional graphic elements. Well-crafted fonts in themselves are works of art and are often underestimated, but a well chosen font can bring a brand to life.
Colour :- Colours play an important role in how people perceive your brand. They can be emotionally and culturally significant depending on factors including region, age and gender. In most cases what works is to have one or two at most main colours and then have a complementary neutral colour like very light grey, charcoal or beige.
Layout:- Are all the special elements of the logo in balance? The icon, the text of your business name, and any sub text that is being used all need to be sized and positioned by your logo designer in a way that makes the final product a unified entity.
Icon:- It is true that a well executed custom logo design can take a simple icon from effective to exceptional. However it isn't always necessary to have an icon and sometimes the most effective icons are very simple.
By breaking down the logo design into its components, both conceptually and visually, it will put you in a confident mindset to create and recognise a logo that is the perfect representation of your business
LOGO is your ideal marketing partner. We are an agency brimming with talented brand consultants, graphic designers and digital specialists. All have one aim: to help you grow your business.
Best Professional Logo Design Services Company in India
Looking for Quality Professional Logo Design for your new business? Does your company logo looks dated? Do you need to refresh your corporate logo?
Let a Professional Logo Designer like Cross Graphic Ideas, famous logo designers india help you with your next logo design project so you will get it right at the first time. Unlimited Revisions and Concepts.Includes logo design, business card design, logo identity guide, stationery design, corporate folder design, signage design, face to face meeting.
Our logo design services includes design consultation, research and a fast turnaround time.
Not all designs are created equal. Invest in a great Logo Design. Invest in Cross Graphic Ideas Advertising expertise.
Get a Great Logo Design that is print and web ready.
Check out some of the logo designs for our clients.
No Matter What's Your Business
WE HAVE DESINGED LOGO FOR ALL THE INDUSTRIES
Agriculture & Farming
Apparel & Fashion
Automobile & Auto Parts
Ayurveda & Herbal
Books & Stationery
Chemical Website Designing
Computer & Electronic
Education
Entertainment
Energy & Power
Environment
Finance
Food Products & Beverages
Furniture
Gifts & Handicrafts
Granite Business
Health & Beauty
Industrial Supplies
Institute
IT & Telecom Services
Hotels & Restaurants
Jewellery Website
Kitchen Utensils & Appliances
Leather Goods Website
Machines &Equipments
Mobile Apps
Medical Website
Marble Business
Milk Products
Metals, Alloys & Minerals
Natural Stones
Office Supplies & Stationery
Paper Products
Printing & Publishing
Security Products
School
Software Development
Sports Goods Website
Tours & Travels
Transportation & Logistics
Telecom Equipment & Goods
Textiles & Fabrics
Toys & Games Website
Custom logo design company
We also provide best custom logo designing services. Thousands satisfied India, UK, USA and worldwide client. Express logo, stationery design, custom website design, and flyer design are available.
We design best utility & productivity logos to make your hectic life a little bit easier, and maybe even more enjoyable. Look at our portfolio to give you a better idea of our most recent Logo Design projects. If you are looking for a new Logo or want to discuss further regarding your project, simply call us on
+91 9829142997
or email at
[email protected]
or Contact Us and we will get back to you.